Harold Cohen was born on May 1st, 1928, in England. Amidst a lifetime of creating art, he has also been a prolific professor, spending more than three decades teaching at University of California, San Diego. He is the noted creator of AARON, an artificial intelligence system that self generates incredible art pieces. This system he has created has attracted attention internationally. Now 86 years old, Cohen has since retired from UCSD and is now spending all of his time furthering the development of AARON.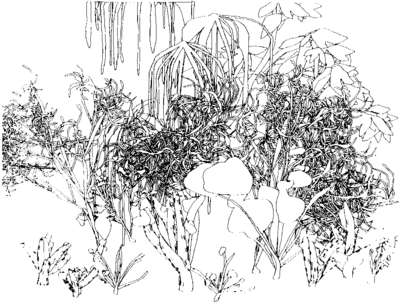 For me, one of the most striking qualities of Cohen's work is the incredible color scheme. While Cohen is mostly representing organic life in his work, the colors he uses to render the plants are almost radioactive. Many of them are not found in nature and they suspend the reality of the scene as something that takes place in the natural world. The line quality is also particularly interesting. It is very involved and complex, which lends itself to the aspect that it was not completely made by man's hand. Many aspects of Cohen's work- the line, color and composition, all refer back to the synthesized origins of the art. Cohen brings the dichotomy of nature and technology together in his work to provide a visually interesting interaction between these two very dissimilar aspects of life. Cohen is constantly reminding us of the huge role technology plays in how we see the world- even nature can be altered and warped with the hand of technological innovation.
Cohen's work, through the coding of his AARON system- provides for some very aesthetically pleasing artwork. The complimentary colors used in his chromatic pieces are easy on the eye and almost trick one into believing that the content could move at any instant. This vitality, which is encouraged by vigorous line use, engages the viewer in a dynamic way and allows the viewer's eye to roam freely around the work. The inclusion of the human figure in some works allows for a sense of relatability to pass between the work and the viewer- this makes for an interesting conversation on human vs nature vs technology. If anything, I would like to see a variation in subject matter, perhaps moving into larger landscape scenes, with more human subjects. However, Cohen has such a large body of work he may well have covered this.
Works Cited: http://www.aaronshome.com/aaron/index.html